Son of a nutcracker! It's our Christmas ad review 2019
It's that time of year again! The mince pies are creeping into the office kitchen, high street shops are laden with in-your-face decorations and festive markets are popping up all over the UK. But our favourite part of the holiday season by far is the release of the Christmas adverts.
The offerings this year range from the tear-jerkingly-wonderful to the ordinarily-average, and we're going to talk you through our thoughts on them all – we've even organised them into a handy pyramid for your viewing pleasure.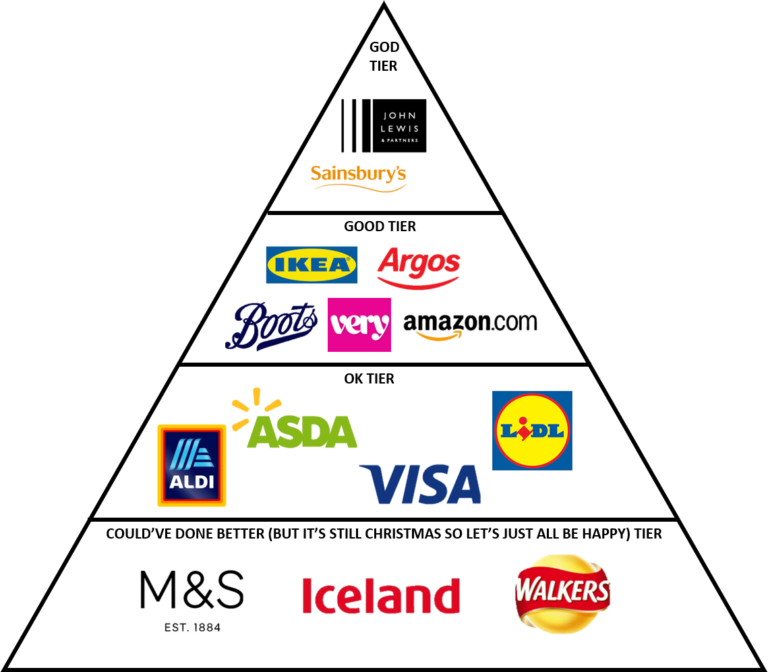 Let's kick things off with the king of the Christmas ad, John Lewis. This year's teaser sent the web into meltdown on Tuesday when it was released, along with a dedicated Twitter account for #ExcitableEdgar.
Meet Edgar. 14.11.19 #ExcitableEdgar pic.twitter.com/4H9YRCDMZJ

— Excitable Edgar (@ExcitableEdgar) November 11, 2019
And then on Thursday, Edgar arrived! The ad is pure bliss and is everything we wanted, after the Elton John biog divided opinion in 2018. From the soundtrack, to the narrative, to the cutest little dragon we've ever seen(!!!), it's a visual delight, so pleasing to enthusiasts like us who want to feel a tear roll down our cheek and that warm fuzzy feeling in our hearts. What a success!
While we're talking about how Christmas ads should be rightfully executed, we can't not talk about Sainsbury's. We all love a story, a poor doe-eyed boy who just wants to do good and an evil villain getting his comeuppance, which is where Nicholas the Sweep has the whole package. The effort that Sainsbury's have gone to this year is fantastic, and for us, this ad is up there with the 2014 WW1 ad (which is one of our faves).
Again, it's all about the emotional narrative, which they seem to have nailed this year, after their last few attempts appeared a bit confused (although we will give a special shout out to the plug child who stole the show and launched himself into the wall in 'The Big Night' last year).
Argos's ad is 2 minutes and 50 seconds of heart-warming, feel-good content with a cracking soundtrack, and calling it The Book of Dreams takes us all back to being in the store as a kid, flicking through the pages of the catalogue and begging Mum for whatever it was that was going to make you the happiest child in the world right then.
All in all, great work from team Argos, it just didn't quite make the top tier for us.
There's another feel-good few minutes from Amazon, featuring the return of the singing boxes, celebrating getting together at Christmas all over the world.
There's very little negative feedback to give to this ad at all, it just doesn't quite give us that feeling that Edgar's little eyes did.
Very have given it a good go this year with their Get More Out of Giving campaign. The brief ad has an emotional song and a team of neighbours working together to show an old man that he's loved (I know right – sold!)
Apart from being a bit on the short side, it's a VERY (lol) good effort from the online retailer this year.
We love IKEA's general advertising stance as it is, and even though they're new to the merry marketing scene, they didn't disappoint with an amusing original grime track.
The ad itself is great, it's fun, funky and fresh, our only gripe with it is that if there wasn't a tree in the corner at the start, then we'd be finding it hard to associate it with Christmas.
Now onto Boots, with a good offering this year. The ad is current, fun and manages to be engaging without tugging on the heartstrings – quite the achievement!
Where the ad does everything right in our eyes in terms of content, we can't help but feel the message of 'you can find everything you want at Boots' to be a little off the mark, and may have been better suited to a department store instead.
An appearance from Kevin the Carrot did Aldi proud again this year, however, we need to discuss the amount of things going on in this short video.
The ad's teaser and the first scene refers to the #LeafyBlinders, which is fun and something we've all got a lot of time for. But as the story moves on, the Leafy Blinders seem to become irrelevant with a Greatest Showman reference, before revealing the collab that nobody knew they wanted – Aldi and Robbie Williams!
The general consensus is that the repurposed song is great and we love it, but the first 20 seconds needs to be cut for it to resonate at all among the best this year.
ASDA were ahead of the game and the first to release their ad this year. It's cute and heart-warming and the story is sweet, there just seems to be something missing. Maybe a focus on the story behind Santa's leftover magic could've been a little more of a pull?
The message behind the VISA advert is a lovely one and is a great output for the brand. It features a rewritten classic tune and cute little old people, but unfortunately lacks some sort of story, allowing it to slip down the rankings somewhat.
The Lidl ad shows us everything we love about Christmas, including mulled wine, mince pies and family getting together, which is all very lovely. It's got some humour and it reminisces about the little quirks of Christmas that we all know and love. At the end of the day though, it's quite average and doesn't get us going quite like some of the bigger players this year.
At the end of the day though, it's quite average and doesn't get us going quite like some of the bigger players this year.
When it comes to M&S, we're not angry, we're just disappointed. After teasing us with Mrs Claus and Paddington a few years back, we were expecting a story and some emotion, and all we got was jumpers.
Don't get us wrong, it's all very nice and cheerful, it's just such a step backwards into their pre-2016 phase of obvious product promotion, instead of getting into the Christmas spirit with the rest of them and making us all cry.
Iceland gave it a good go with a Frozen 2 partnership, which is all very clever and the partnership opportunity of a lifetime, but just not very exciting for us unfortunately. Although after going all out and getting their ad banned last year, this probably was the harmless, family-friendly association that they needed to put out there.
And Walkers…(sigh). Well Walkers should've just stayed in their lane and dressed Gary Linker up in an elf costume.
Let us know what you think of the ads this year. Happy watching & Merry Christmas!