Chevrolet, Meerkats and Manchester – PR Campaigns We've Loved
Here is a roundup of some of our favourite PR campaigns and stories from October ….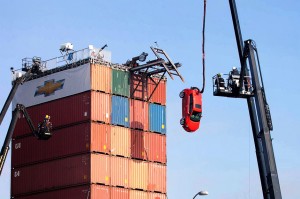 Chevrolet Sonic bungee jump – Chevrolet used a stunt last month to launch its new Sonic car to younger buyers.
People were invited to bungee a brand new car off a tower in LA by visiting a website and clicking on a button, with every click taking the car one step closer to the edge.
After nine hours and 2.5 million clicks the car took off. The launch was streamed online so people around the world could watch as it nose-dived towards a paddling pool before being bungeed back up into the air.
The campaign gave the term car launch a whole new meaning!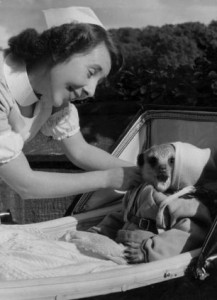 When I Were a Meerkat – The UK is mad on meerkats – fact. So much so that the Daily Mail devoted a whole double page spread to the launch of a new book, When I Were a Meerkat, by Andrew Davies.
A take-off of Davies' original book, When I Were a Lad, the meerkat version super imposes pictures of meerkats on to old black and white photos in a fairly amusing manner.
Even though we originally thought it was, the book has nothing to do with Compare the Market, although there is a cursory 'seemples' in the intro of the article.  Proof that the Compare the Market campaign is now so ingrained into day-to-day life that the media can't reference meerkats without mentioning it.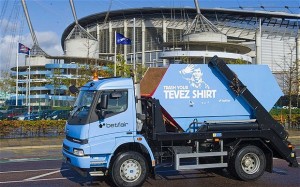 United vs. City – two great Manchester derby stunts
Making the most of the fact that everyone in Manchester now hates Carlos Tevez, Betfair used last month's Manchester derby to give fans of both sides the chance to bin their Tevez shirts in exchange for new ones.
Skips were placed outside Old Trafford to collect the shirts which were then shipped to Argentina to be given to local charities  – everyone's a winner!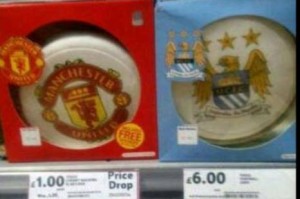 Another cheeky stunt came from Tesco after this picture emerged – apparently the work of a 'rogue employee' and not the global supermarket. We have seen a few 'pricing error' stories from Tesco make the news in in recent weeks – smell a rat anyone?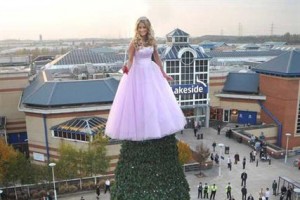 One from the archives – Lakeside's Living Christmas Fairy
The annual PR Week Awards took place last month and 2011's campaign of the year went to …. Lakeside's Living Christmas Fairy by Clarion Communications.
Simple yet highly effective, the campaign saw Chantelle Houghton placed on top of a 50ft Christmas tree as a living Christmas fairy.
A masterclass in the perfect picture story, the stunt combined newsworthy celeb, clever branding (the tree was positioned outside the store's main entrance) and eye catching image and resulted in a whole raft of national coverage. Beats Matt Cardle turning on the Christmas lights any day!
Other notable mentions ….
There have been two notable PR hoaxes this year – the 'Momzilla' mother-in-law from hell email and last month's giant slipper.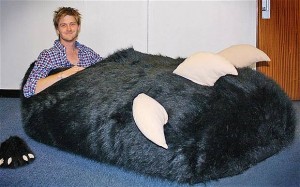 A mistake with an overlooked decimal point lead to a Chinese slipper manufacturer sending baffled Tom Boddingham a gigantic slipper. The company behind the product, Monster Slippers, blogged about the mix up and promised to send Tom a replacement in the correct size straight away. Then it transpired that the unwitting Tom, splashed across the world's media, actually bore a startling resemblance to Monster Slippers' website manager Joe Jennings. All of a sudden Monster Slippers were unavailable for comment.
Was it a good idea? Well, we're still talking about it a month or so on making it a cert to go down in PR hoax history. And, many of us in the office did comment on how nice it would be to snuggle down and have a little nap in that giant slipper.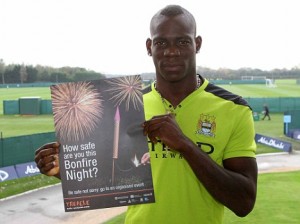 Mario Balotelli firework saga
Mario Balotelli made the news last month after allegedly setting his bathroom on fire when he and a group of friends decided to let off fireworks out of a window.
No sooner had the fire brigade left the premises had Mario been snapped up to front a Manchester firework safety campaign. Apparently the media had misreported the story and this was his way of putting things right.
Whether it was a quick thinking publicist or a clever approach from the firework safety organisation, it generated tones of national coverage, for what was a regional fire safety campaign, and gave Mario the chance to correct the negative press.