Back to the Future day – as it happens
October 21, 2015 is the day that Marty McFly et al visit in Back to the Future 2 via their time travelling Delorean. To celebrate, the internet took to photoshop with gusto to create it's own homages and takes on how the future really turned out.  Warning: contains hoverboards.
Deezer got into the groove
Deezer treated us to a Back to the Future playlist. 80s-tastic. Yes please!
Happy #BackToTheFuture Day! Relive the classic with our exclusive playlist! https://t.co/yTZb6xZCP9 pic.twitter.com/CHhQZV44C6

— Deezer South Africa (@DeezerZA) October 21, 2015
Thanks a bunch, Arena Flowers
Loving the play on words from the guys at Arena Flowers…
"Rose? Where we're going… we don't need rose." https://t.co/Png9unxIun #BackToTheFuture #Sorry pic.twitter.com/EghhUldSqa

— Arena Flowers (@ArenaFlowers) October 21, 2015
Suffolk Police fall back
Suffolk Police used the day to remind Suffolk folk about the clocks going back. Important stuff…
Just a little reminder, the clocks go #BackToTheFuture this weekend – https://t.co/lbmfcqoyZj pic.twitter.com/tbyVzxDpKt

— Suffolk Police (@SuffolkPolice) October 21, 2015
DWP gets serious
Even the Department of Work & Pensions got in on the action with this reminder about pensions (let's just hope people read the copy on the image).
'Pensions? Where we're going we don't need pensions…' #DontIgnoreIt #BackToTheFuture https://t.co/fWkyXT9qBY pic.twitter.com/G1Pjx7P2oO

— DWP Press Office (@dwppressoffice) October 21, 2015
Savvy get motoring
Our neighbours at Savvy Media went back to the future with this outdoor creative to celebrate…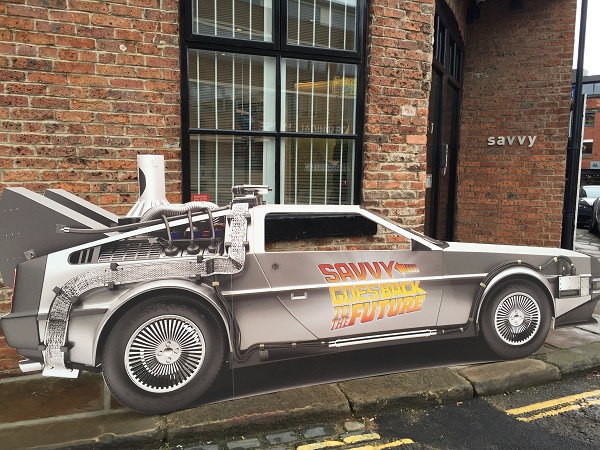 From Russia with love
The Russian Embassy got involved to ask important diplomatic questions…
Today being #BackToTheFuture day,we'd like to ask-do you think the world has become a safer place since 1985or 1955? pic.twitter.com/hdHaDBFHmj

— Russian Embassy, UK (@RussianEmbassy) October 21, 2015
The Doctor returns
SyFy UK got the ACTUAL Doc Brown involved to flog the box set. Yes, we are tempted…
Good morning, Doc. Happy Future Day! #BackToTheFuturehttps://t.co/XKOotl6EZV

— SYFY UK (@SyfyUK) October 21, 2015
How-to guide from the Indy
The majority of our office is too young to remember the film the first time round, so The Independent has commissioned Chris the Simpson's Artist to fill those knowledge gaps…
What #BackToTheFuture got right – from 5p plastic bags to tin fingers (by @getbentsaggy) https://t.co/H9SQwJO6sy pic.twitter.com/3aKJkmRIu9

— The Independent (@Independent) October 21, 2015
Toyota go large
Toyota has enlisted both Doc & Marty to help promote the Mirai. Check out #ToyotaMirai for more BTTF jinx.
Making up for lost time w/ an old friend. More to come in the future. http://t.co/YsFjCNc1i2 #ad #ToyotaMirai #BTTF https://t.co/pm2YOOG2xZ

— Michael J. Fox (@realmikefox) October 14, 2015
No smoke without fire
London Fire Brigade used BTTFD to give a serious warning about fires caused by dodgy chargers on modern day 'hoverboards'.
Great Scott! 'Hoverboards' cause 2 fires in as many weeks #BackToTheFuture https://t.co/tV7g63JYNc pic.twitter.com/N9AGeKo0rk

— London Fire Brigade (@LondonFire) October 21, 2015
Paypal get geeky
Paypal treated us to some geeky (but fascinating) facts about the film…
The future is now. We have mobile payments. Now, if only we had flying taxis… #BackToTheFuture #BTTF2015 #paypalithttps://t.co/CsG8krpxT2

— PayPal UK (@PayPalUK) October 21, 2015
Borussia go bonkers
German footy legends Borussia Dortmond got their striker in futuristic garb on a hoverboard. Wunderbar!
Hoverboard, @Aubameyang7? #backtothefuturehttps://t.co/xsgC3v74BG

— Borussia Dortmund (@BVB) October 21, 2015
A dose of realism from Angry Britain
A few people were not happy about the lack of standard-issue hoverboards. Angry Britain was no exception…
It might be #backtothefuture day but my hooverboard isn't working ? pic.twitter.com/fxPDuNFd1X

— AngryBritain.com (@AngryBritain) October 21, 2015
A bit of a let down?
And some were less than impressed with our modern gadgets…
https://twitter.com/dothejobbetter/status/656721109639806976
Phone-y stuff from Evian
The water kings remind us of the days when a smart phone was one that looked nice, rather than did things…
In 1985 many of you may not remember but this wasn't a cool vintage object. This was a phone. #BackToTheFutureDay pic.twitter.com/DVSoIlPU4K

— evian (@evianwater) October 21, 2015
It's a cover up from USA Today
USA today dedicated it's entire front page to recreation of the one from the film. Bravo!
Tomorrow's @USAToday will be wrapped in a fake cover – the one depicted in #BackToTheFuture. https://t.co/A2x0zMW3co pic.twitter.com/deG38m87zD

— Alana Mitchelson ? (@AlanaMitchelson) October 21, 2015
Eat, sleep, rehydrate, repeat
Pizza Express lay claim to the pizza rehydration meme. Let's hope no one got hurt in the process…
PizzaExpress Hydrated is here. We sure can hydrate a pizza! #BackToTheFuture #BTTF2015https://t.co/m8Lm2JGwyX

— PizzaExpress ? (@PizzaExpress) October 21, 2015
By Royal decree
Royal Dutch Airlines jumped on the trend with its 'we don't need roads' tweet. Loving the attention to detail on the watch & denim jacket…
'Roads? Where we are going we don't need roads.' #backtothefuture pic.twitter.com/5GkbleIFvy

— Royal Dutch Airlines (@KLM) October 21, 2015
It's a Bullseye!
Iconic 80s TV Show Bullseye also got in on the action. Offering a DeLorean as a grand prize…
And Bully's Special Prize…!#BTTF2015 #SuperSmashingGreat pic.twitter.com/bO2qbitt7n

— Bullseye (@BullseyeTVshow) October 21, 2015
Stay classy
Classic FM played a blinder with  Bach-to-Back banter…
That's much more like it. #BackToTheFuture #BTTFDay #BTTF2015 #BachToTheFuture pic.twitter.com/rygtaRooTZ

— Classic FM (@ClassicFM) October 21, 2015
It's all going south
South West Trains injected some hilarity into the daily commute with this message on the station signs…
Well played, @SW_Trains – well played. #BackToTheFutureDay #BackToTheFuture pic.twitter.com/cYdbc7lSNO

— DriverPotter (@DriverPotter) October 21, 2015
Good sports
BBC Sport used BTTFD to rethink the outcomes of some iconic sporting moments. Ever wondered what would have happened if  Maradona's hand of god goal was disallowed? Look no further than their nifty video…
"Great Scott!"

What if Maradona's goal had been disallowed?https://t.co/PUrirCg1CH #BackToTheFuture pic.twitter.com/Trnkv5beyW

— BBC Sport (@BBCSport) October 21, 2015
Racking up the RTs
Virgin Trains put out a play on words with Pendolino & created a bespoke hoverboard rack…
Guys, it's 2015… we really shouldn't have to remind you of this… #BackToTheFuture #BTTF2015 pic.twitter.com/h3LCRKqMkU

— Virgin Trains (@VirginTrains) October 21, 2015
The more the Perrier
Another giant in the world of water, Perrier, has also jumped on the bandwagon with this lovely looking hoverboard homage, featuring a bottle of the fizzy stuff…
Great Perrier! It's October 21st 2015! #BackToTheFuture by Popsicle-Illusion pic.twitter.com/5j5d86taHr

— Perrier (@Perrier) October 21, 2015
Ello ello ello
The social team at West Yorkshire Police threw their hats into the ring with this Facebook post. We love the message to the haters in the comments section. You go Sgt Artis!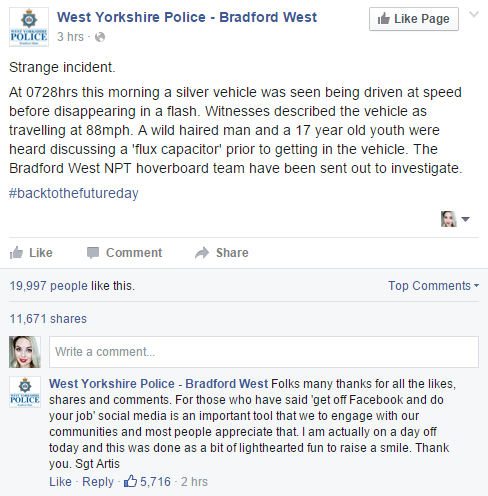 Check out this check in
Swarm got in on the action with this addition to the check-in app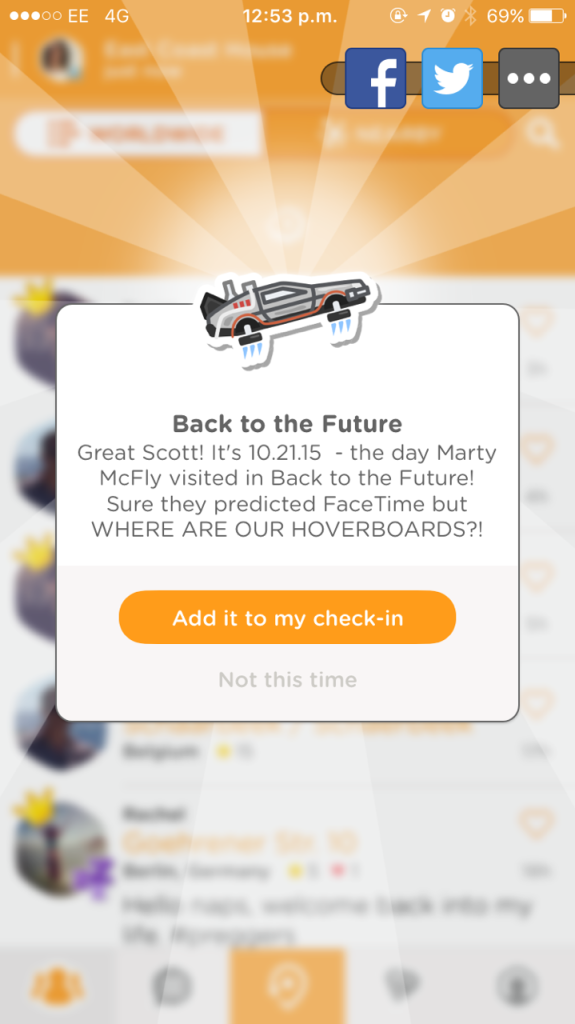 Streetview shenanigans
Google swapped its Streetview Pegman for Doc Brown in a pixel DeLorean for one day only…
It's #BackToTheFuture Day! Go back in time with #StreetView and turn Pegman into Doc Brown. pic.twitter.com/Nh4rwvKGYt

— Google Maps (@googlemaps) October 21, 2015
Uber and out
Uber teamed with Pepsi Max to offer trips in a futuristic vehicle. Wonder if time travel incurs surge charging?
Tap to the future and get a time machine on demand! Enter code "PEPSIMAX" into our app today #BackToTheFuture pic.twitter.com/c3LBINaGnQ

— Uber UK (@UberUK) October 21, 2015
Are they just doing it?
Nike has whet everyone's whistles by tweeting Michael J Fox about a BTTFD rendezvous, sending the internet wild with hysterical speculation that they are launching the self-tying trainers…
.@realmikefox see you tomorrow.

— Nike (@Nike) October 21, 2015
UPDATE: Nike has indeed created a very limited run of the self-tying trainers (known as Mags don't you know?) and is releasing some for auction, all proceeds going to Micheal J Fox's Parkinson's Disease foundation. Brilliant and lovely stunt. Here's how it broke on Twitter…
Michael J. Fox models the first self-lacing @Nike Mag pic.twitter.com/bgPWM5CKBE

— michaeljfox.org (@MichaelJFoxOrg) October 21, 2015
If you can imagine the future, you can create it.
⠀⠀⠀ ⠀
Find out about pair no. 1 at https://t.co/ptkErznzjl pic.twitter.com/Gi6UMNsNML

— Nike (@Nike) October 21, 2015
What did you think?
Back to the Future Day divided opinion in our office and we saw some great and not-so-great executions of memes and stunts by a huge number of brands. What did you think? Love it or hate it? Who was the winner and who missed the target?  Let us know by tweeting us at @umpf.