Social Media Ouch Map is a World-First and Award-winner – Case Study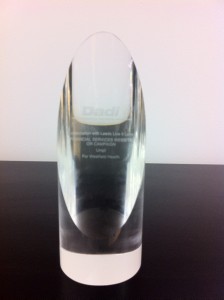 Our social media Ouch Map has been busy picking up awards on the winter circuit recently, scooping a DADI award (right) for 'Financial Services Campaign or Website'. We are delighted that our creation was recognised amongst a very competitive field as being both innovative and great to look at. Since the DADI win, the Ouch Map has gone on to receive runner-up (commendation) at the national Social Buzz awards and also be shortlisted for CIPR PRide award at last month's ceremony in Leeds.
But how did we get here? What inspired the Ouch Map? How did we come to create it? Well, the answer is very simple; responding to a client's needs with a creative and original idea.
When online health insurer, Health365.com, approached us to launch their brand across the UK, we worked with them to define some very specific objectives: drive traffic to the new site, using social media in particular to generate sales and to make health insurance (generally considered to be a dry subject) appealing and accessible to tech savvy 25 – 40 year olds.
As with every piece of work we execute for our clients, we keep objectives at the forefront of our minds when coming up with creative ideas.
In response, our solution was to launch the world's first 'Ouch Map' a fun, interactive social media experiment that would map minor injuries and see which parts of the body Brits hurt most. We proposed the Ouch Map as an interactive and social media friendly way to monitor those minor in real-time using an interactive Twitter app and a glowing skeleton. We believed the Ouch Map would also enable Health365.com to achieve the primary objective of making online health insurance more interesting and accessible, whilst boosting site traffic and sales.
The beauty behind the Ouch Map and where it really stood out was that it would be a world first as well, not just in terms of functionality, but also in terms of data; whilst information on more serious accidents and injuries involving hospitals and GPs is more readily available, we recognised that less was known about the more frequent and often annoying bumps and bruises, grazes and scuffs that do not require medical assistance.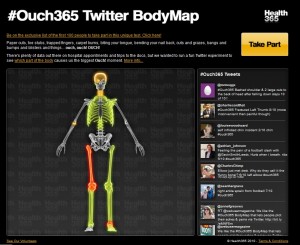 We devised the glowing skeleton as a suitable 'map' onto which twitter users' data could be pictorially represented. The fantastic visuals and coding for the job were produced by Ben Marsh whose work speaks for itself. Those having an 'ouch' moment are able to use the hashtag #ouch365, indicating the part of the body and the scale of the pain experienced from 1 – 10. E.g. '#ouch365 grazed left knee 7'.
The injury was then logged real-time on the interactive human skeleton at www.health365.com/ouchmap with participants' pain data being used to light up the bones of the human body in accordance with the level of pain experienced, with green being low-level pain and red being a severe 'ouch moment'.
To fulfill Health365.com's desire to build traffic and sales we decided that the Ouch Map should sit on the Health365.com website and be just one click away from the homepage, meaning the traffic from users of the Ouch Map was directed towards generating additional sales for the company as well.
As nice as we think the Ouch Map looks, this is primarily to serve the objectives that we devised with Health365.com. For us, the most important aspect of the Ouch Map's success (and where certain social media campaigns fall short) is that it enabled Health365.com to hit and far exceed all of these objectives.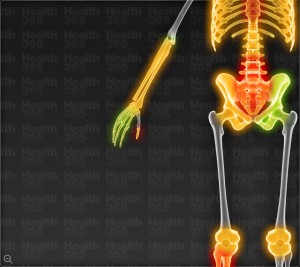 Since the Ouch Map launched and in the subsequent months, traffic to the Health365.com trebled with the monthly sales average of policies doubling over the same period. What's more, targeting the 25 – 40 year old age bracket has been achieved through the Ouch Map, with the average age of Health365.com policy holders sitting within this demographic.
If you are interested in talking to us about our social media campaigns, you can read about more here and please get in touch by email. We'd love to talk to you. Who knows, yours could be the next award-winning social media campaign that we devise.