CIPR Success is "gob-smacking"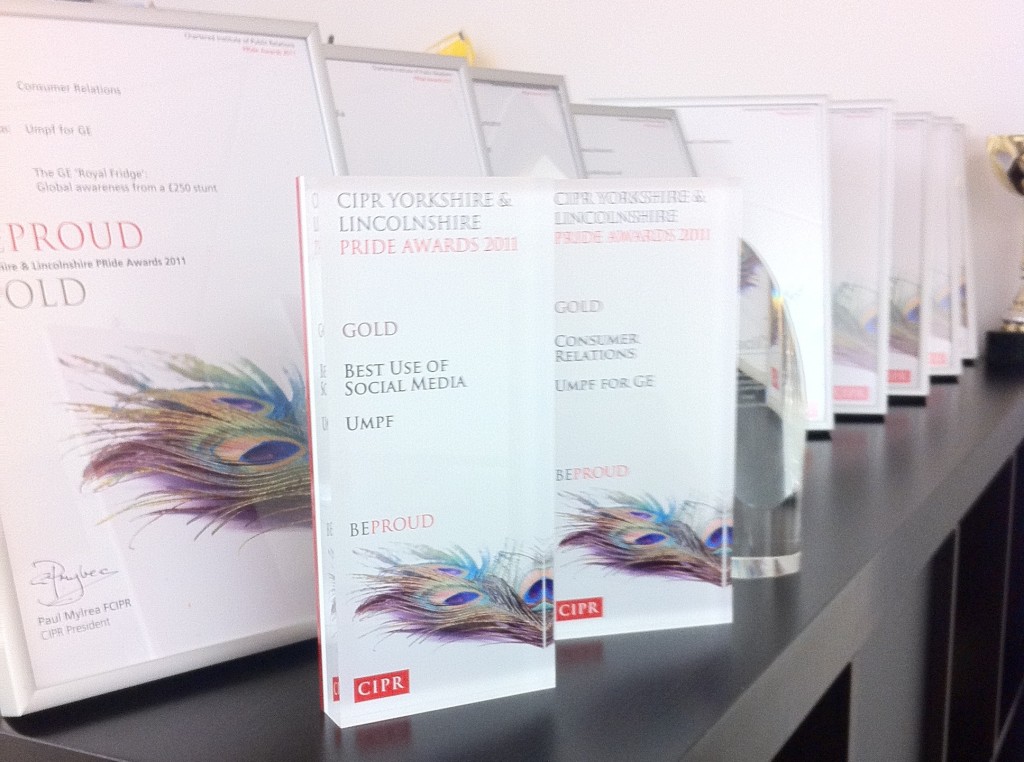 Umpf's first foray into the CIPR PRide awards was a successful one – we bagged a collection of PR awards.
The CIPRs recognise excellence and achievement in public relations and communications – 'PRoof of success in the PR industry' according to our industry body.
We had eight campaigns shortlisted – no mean feat in itself – and collected four gongs which highlights the strength of the PR talent within the agency.
We're particularly pleased with the CIPR judges' comments on our 'Royal Fridge' PR stunt: a "gob-smacking volume of positive media coverage and social media buzz".
And kudos to Umpf's Jon Priestley who won the Outstanding Young Communicator award.
Special mention to our friends at business-to-business PR agency The Right Agency who won Gold for the best Corporate and Business Communications campaign.
Umpf's PR Awards Roll Call
1. Consumer PR – Gold winner, Umpf for GE.  Campaign:  The GE 'Royal Fridge': Global awareness from a £250 stunt
2. Best Use of Social Media – Gold winner, Umpf for Belling.  Campaign: Tweet Pie – The World's Shortest Recipe Book
3. Best Use of Media Relations – Silver winner, Umpf for MyJobGroup.co.uk.  Campaign: Social 'Notworking'
4. Outstanding Young Communicator – Gold winner, Jon Priestley, Umpf
CIPR judges' comments: