App Review – Heineken Star Player
A tweet from Creative Review caught my attention yesterday afternoon; news of a new app from Heineken.  Star Player is a live Champions League-based football game created by Akqa.
As a football and beer fan, any excuse to watch football, drink beer and play an interactive, badge-collecting, global, league table-based game which hooks into Facebook isn't one to be missed.  Here's the skinny.
Concept: ◊◊◊◊◊
Aesthetic: ◊◊◊◊
Execution: ◊◊(and-a-half)
Overall: ◊◊◊(and-a-half)
Download Star Player from the App Store and connect it to your Facebook account (so you can let your Facebook mates know you're watching watch football, drinking beer, playing an interactive game…etc).
The aim is to score as many points as possible during the 90 minutes.  Points are awarded in a number of ways:

1.       Predicting a goal – but only within a 30 second passage of open play.  For example, if team A is attacking and you think it looks a promising move that could lead to a goal, hit the "Goal in next 30 seconds?" button.  If they so score wit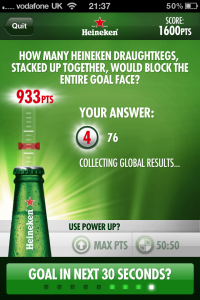 hin 30 seconds you receive up to 2,000 points (points awarded on a sliding scale: the sooner you predict the more points you collect.  So if you hit the button 29 seconds before the team scores, you'll receive far more points than if you do it 5 seconds before the ball hits the net)
2.       Predicting the outcome of an event such as a corner or free-kick (presumably there will be a penalty option, too, but there were no penalties in last night's game to check).  There are four options: Goal, Cleared, Saved, Missed with different points awarded for each
3.       Answering random questions correctly (see right)
You can also earn up to ten badges for completing certain tasks such as correctly predicting the outcome of three free kicks in one match.  There are ten Heineken Star Player Badges: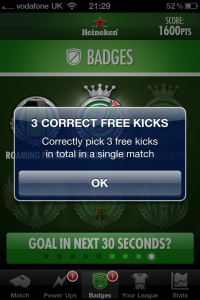 1. Roaming Player
2. Free Kick King
3. Corner King
4. Football Legend
5. All-Round Ace
6. Heineken Hero
7. Goal Rookie
8. Goal Pro
9. Goal Master
10. Sharp Shooter
The app is bang on the money in terms of concept: dual-screen is where we're at, watching TV and Tweeting or updating Facebook; and real-time game play is a great draw.  Add in badge collecting and the incentive of a global league table and we're hooked.
The graphics are what you'd expect of a global brand: pretty slick.  You're initially shown a menu of the remaining Champions League games and asked to choose a match you want to participate in.  However, seemingly, you can't select a match.
I faffed around trying to click the Real Madrid vs Barcelona icon, but you just can't do it. I tried and re-tried and almost gave up (how many others gave up trying?). as it turns out, you can only select a match 10 minutes before kick-off.
So why ask users to select a match when you can only do it in a ten-minute window?  Better to either, make it obvious that you can only select a match within 10 minutes of kick-off, or, add an option to pre-select a match and receive a push notification ahead of kick-off.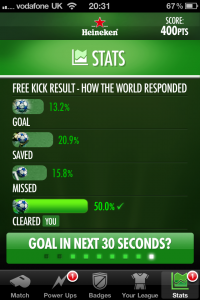 You can play alone and be in the global league (at the time of writing there are 671 participants worldwide), create your own league so you can challenge your mates, or, if you have an invite from another league, take part in that.
I used the code from the Star Player app write-up in Creative Review and joined their league.   At 7.45pm the Real Madrid-Barcelona Champions League semi-final 1st leg kicked-off.
The first thing you realise is that you need to keep the Star Player app open and running.  Ninety minutes really saps the battery – I lost exactly 30% of my iPhone4 power (from 75% to 45%) in just one match.
Don't turn it off, if you do you'll waste too many valuable seconds turning the phone back on when you think there's going to be a goal (remember, the quicker you respond, the more points).
And switched off you'll also miss the random questions the app delivers.  I didn't have my phone on throughout, so I don't know how many questions I missed.
I received two questions while the app was running – the sound of a ref's whistle indicate
s a live question to which there are four multiple choice questions.  Again, the quicker you answer –providing you get the answer correct – the more points you score.
However, the main issue for me – which seems far more of a flaw in a game which rewards points based on speed of response – is that the match clock on the app and the match clock on the TV I was watching do not sync.
The app's live timer was 4 seconds ahead of the ITV1's live match timer. Meaning someone at the game or watching a different live stream has a point-scoring advantage (back to that point about the quicker you respond, the more points you stand to earn).
One bug: at one point I had the phone off (app running); when I turned it back on again it was during one of the random questions; as I'd joined the question late I was locked out, unable to answer and the only option to return to the game was to quit the application and restart.
It's difficult to know in advance how interactive a particular football match is going to be ie loads of corners, free kicks etc means more for the user to do; in the case of last night's game it wasn't an end-to-end, all-action affair (despite Messi's sublime goal).   I would have welcomed more interactivity last night, such as more of the random questions.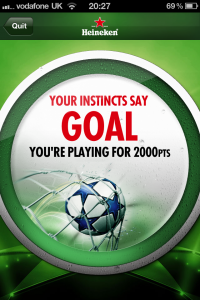 Predicting a goal from open play within 30 seconds is actually pretty difficult.  So, a suggestion: how about the addition of yellow and red card buttons so users could predict cautions or sendings off following bad challenges, hand-balls, etc?
The app is far from being an own-goal and I hope this doesn't seem too harsh a critique.  It's a very clever, creative idea that, as mentioned already, is right on the dual-screen, interactive money.  But it probably does need a bit of fine-tuning.
Last night's match – known as El Clásico – didn't quite live up to the expectation, which is a pretty good analogy all ways round.