14 Valentine's Day PR Stories We Heart
Valentine's Day isn't just about love, red roses and all that soppy stuff, it also brings a whole plethora of PR stories and stunts out of the woodwork. Here is a round-up of some of the Valentine's Day campaigns we have spotted this year – and trust us there have been loads.
The best …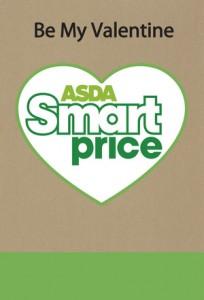 1. Asda 7p Valentine's Day card – Simple yet effective, Asda has created a 'recession busting' Smart Price Valentine's Day card, yours for just 7p (plus another 7p if you want an envelope). Showing the supermarket giant's humourous side, the inside message reads 'My love for you is priceless!' A great idea, loads of coverage and a stand-out stunt for Valentine's Day
2. Love Hearts – It's not just sweet dust in the air at the factory where Love Hearts are made, apparently there's a whole lotta love too! Love Heart makers, Swizzels Matlow, has revealed that one in four of the workers at its sweet factory are in a relationship with a co-worker. That's 61 couples out of 500 staff.
Company director Jeremy Dee said, 'Love Hearts clearly inspire romance.' Clearly – but perhaps not so great for productivity if they split up?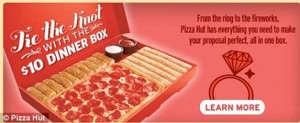 3. Pizza Hut proposal pack
Over in the USA, Pizza Hut has launched a Valentine's Day proposal pack. At a whopping cost of $10,010 they will provide everything you need for your proposal to go with a bang, including red ruby ring, limousine service, flowers, personal fireworks show, photographer and videographer … oh and a $10 pizza and breadstick meal.  If you don't use the package by 31 March 2012, Pizza Hut will even refund your money.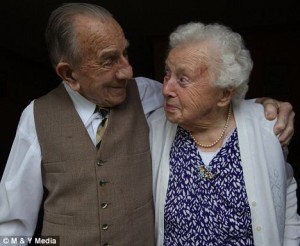 4. Britain's Oldest Couple tweet love advice
Tomorrow Britain's oldest couple (celebrating 76 years of wedded bliss this summer), will be dishing out relationship advice via Twitter. Lionel and Ellen Buxton will be tweeting on behalf of wedding video company Shoot it Yourself (who appeared on the last series of Dragon's Den and has backing from our fave dragon Hilary Devey), sharing their advice on the key to a long and happy marriage.
It will be interesting to see how many tweets they receive but all in all a nice PR idea with some great coverage for the brand. Follow the couple @lionelandellen.
5. Brits to Spend £880m on Valentine's Day
A tried and tested Valentine's Day story which is usually good for coverage – some stats on just how much we are planning to spend this year. This survey of 5,000 adults for Travelodge says £880m apparently, with men forking out twice (39.99) as much as women (£20). Good Valentine's Day fodder.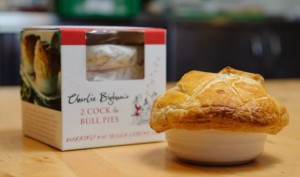 7. Aphrodisiac pie
There are usually lots of Valentine's Day themed food things doing the rounds, this year 'the world's first aphrodisiac pie', created by luxury pie maker Charlie Bigham stood out. The pie contains bulls testicles (an aphrodisiac apparently) with Mama Juana liquor, and energy-enhancing Ginseng. Apparently this mixture of ingredients is so potent the pie carries a health warning. It is available for £7.99 from Ocado – we think we'll pass.
Some of the rest …
8. Katie Perry is the woman that most men would like to sing a romantic duet with this Valentine's Day according to luckyvoice.com
9. Agent Provocateur used real-life models as mannequins in the shop window of its New York store to promote its Valentine's Day range.
10. Another mention for Asda – the supermarket created a "horti-couture" red gown using almost 2,000 of its Valentine's Day red roses. The gown took 170 hours to make and was created by Joe Massie, the three-time winner of the RHS Chelsea Young Florist of the Year award.
12. Dove will be using a giant screen in London's Victoria Station to ask commuters – 'what do you love about your Valentine?' Passers-by can respond using Twitter or SMS with thoughts being shared on the big screen. The Dove team will also be handing out white tulips to commuters to share with their loved ones.
13. This Valentine's Day Tom Tom has delved into its database to compile a list of the UK's most romantic roads. Kent comes out on top when it comes to the number of romantically names roads by county with 15.6 miles of roads with romantic names.
14. And finally, if this Valentine's Day is the final straw for your relationship how about a free divorce courtesy of a New Zealand radio station? This anti-Valentine's Day 'win a divorce' competition will see a man tell his wife that they are splitting up live on air. Ouch. It will come as no surprise that the stunt has faced huge opposition so whether it actually goes ahead or not remains to be seen.